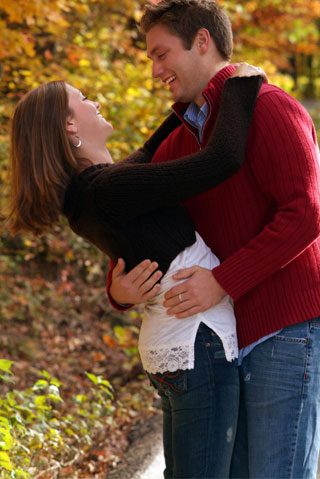 Have you ever been put into a situation where your family is excited about doing something together that completely humiliates you? For example, we had a client call us from Sacramento CA who said that his entire family was planning on taking a yearly portrait together all dressed similarly and done by a professional photographer. He shared that he had never been heavier in his life and absolutely did not want to take this photo. His self esteem was low and he desperately wanted to lose those awful pounds first before taking such a picture that would end up framed in everyone's homes.  He shared that he had tried every diet plan on the market and nothing worked for him, so he was deflated and feeling hopeless. This is a great HCG Diet example plan for us to share with you because our clinics became what changed this man's life both physically (inside and out) and emotionally. He got his family to hold off on taking the picture, worked with us and lost 30 pounds in 30 days and then went on to lose even more! He ended up taking the picture with a huge smile on his face for many reasons. (1) He felt good about his appearance and (2) He knew that his health was in much better shape now and he did not have to worry so much about some of the risk factors of being overweight such as diabetes, stroke and coronary heart failure. He contacted us by filling out our online Contact Form and one of our expert clinical advisors called him via telephone rather quickly. They discussed his goals for how much he wanted to lose, we answered all his questions and addressed all his concerns and gave him an example of HCG diet plan.  He truly was a committed client who learned all he could about our program, stayed compliant to our doctor's prescription and followed all of our protocol. He lost all the weight he wanted and needed to lose and today he says that he had all his prayers for a normal life based on losing weight and getting healthy answered. That is a great story we love to share and hope that others can get inspiration from it and agree to commit themselves to getting in shape and healthy physically, mentally and emotionally too. Being heavy can drastically affect all these aspects of one's existence, but we can help you add the greatest quality to your life by helping you get into the best shape of your life first.
HCG Diet Meal Plan Example
Let us now talk about what you will be eating during phase 2 of our diet plan protocol. This is called the "stabilization phase" and you will be taking in only 700 calories per day including your HCG injections, our Vitamin B 12 and our vitamin complex. What separates us from all other plans across the country from Houston TX all the way to Portland OR is that we do not use pre-packaged foods or have you eating cookies for your meals or shakes, etc. When you do this, you are missing one of the most important elements of a diet plan program; learning how to eat every day healthy foods that you will need to purchase in your own local grocery store. How can you learn what you will eat once your plan is over if you are not educated as to what foods are healthy and appropriate? We will provide a comprehensive list of HCG diet food examples for you in your kit that will be shipped to your home or office when you are cleared to work with our clinics. How do you get cleared to work with us? You first will call us directly using our toll free phone number or you can fill out our online Contact Form. You will speak with an expert clinical advisor at length about your situation and then you will fill out our online medical history form. Our licensed doctors will review your information to make sure that you are an appropriate candidate for our program. It is as simple as that. We have a team of consummate professionals that put your health and well being as our number one priority. Our goal is not only to have you lose weight, but also to help you keep that weight off for the rest of your life. You can do that by learning what an HCG diet meal plan example will look like. Our protocol consists of 4 separate phases. The one that is most important to talk about here is a typical day of eating during phase 2. This is when you will be taking our injections, our vitamin supplements and eating only a 700 calories per day. You will split your day up into 5 different times you will eat, including 3 meals and 2 snacks in between any time you would like. That snack is usually a piece of fresh fruit of your choosing or a piece of Melba toast. With each meal, you will be making sure to drink at least 16 ounces of water. You can add lemon juice to your water to give it some flavor and other benefits. You must make sure to always stay away from sugars and never use any kind of butter or oil to enhance the flavor of your foods. You can use other spices. There are many different HCG diet meal examples and we are sharing just some of what people eat during their days. These are simple meals to pack to bring to work or even just to have ready to eat while you are at home. With breakfast you will drink your 16 ounces of water and have an unlimited amount of tea or coffee as you desire. Remember, no sugar can be added; however, you can add 1 tablespoon of milk per day and you can split that amount between meals. You may have 2 egg whites with 2 tablespoons of chopped onions if you would like. Enjoy a piece of fresh fruit or save it for a snack for later. We understand you may be panicking by reading how little amount of food you will be consuming, but please understand that for several reasons, you will be able to do this without any problem at all. One of the reasons is because of our injections and the other is because phase 1 of our HCG diet plan protocol will prepare you for phase 2. During phase 1 you will be eating and eating and eating everything that your heart desires. We ask that you stay away from sugars, but eat all the fattening foods that you can possibly eat for 2 straight days. That will include hamburgers, pizza, French fries, fried foods, and anything else that you can think of along these same lines. Many people who stick to our plan of eating as directed will most likely be very well ready for phase number 2 because the thought of eating so much more than they normally do (which is an extreme amount) for any longer than 2 days will be very unappealing at that point. Let us continue on with what you will be eating for the rest of your day.
Example Meal Plan For HCG Diet
For lunch, you will once again drink the same amount of water (16 ounces) and have coffee or tea if desired. You may have a piece of fruit or save it for your snack for later. In addition, you may have one piece of Melba toast or you may save that as a snack for later as well. You will be eating approximately 5 1/2 ounces of lean protein of chicken, fish or other choices from our list, and 6 to 8 ounces of mixed vegetables on a mixed green salad with lemon for a dressing. There are other kind of low calorie dressings that can be prepared as well, but please make sure they are on our list. We can share those with you too. So far, this HCG diet sample menu is a very common meal plan that people from all over the country from Oakland CA all the way to the East Coast in Fort Lauderdale FL use and do very with every day. Dinner time is relatively similar to your lunch and consists of, for example, 5 1/2 ounces of any lean protein from our list, 6 to 8 ounces of raw vegetables (you may also steam, bake or sauté them), 16 ounces of water and coffee or tea. Enjoy a piece of fruit of your choosing and a piece of Melba toast or you can save either one of these for your evening snack which will come later. Please believe us when we tell you over and over again that you will very easily be able to eat our HCG diet with such a low amount of calories with no problems at all. You will not be cranky or irritable because you are hungry. You know you have an amazing goal set for yourself for your physical and emotional health, but our injections are also key to keeping your appetite low. You must make sure to take our Vitamin B 12 and our vitamin complex as well because that gives you the energy that you will need and the extra nutrition and brain fuel in order to function well during your days. You will still be able to go to work and produce like normal, take care of your family and even continue with some of the hobbies that you enjoy doing. You will be thrilled to notice the pounds melting off your body every single day at approximately 1 pound per day. Please remember that this is just one example of an HCG diet example day. As we said earlier, we will be shipping you a list of foods that you can choose from to buy from your local grocery store. There will be no reason to go to any specialty food stores, health food stores or to spend extra money on any kind of special foods at all. We are preparing you during this phase to learn how to eat healthy every day foods that you can find in your local grocery store. We want you to learn how to eat correctly now and also teach your family how to do the same. We want you to be able to have great eating habits that will last a lifetime and help you to keep those unhealthy pounds you lost off of your body forever. You can teach your family wonderful lessons on eating well so that your children can grow up with healthy bodies to help improve their physical bodies and their emotional well being as well, such as their self esteem. Do you want another HCG diet meal plan example? We have so many different ways to prepare your recipes and to lessen the calories of some of your favorite meals so that they are acceptable for our diet plan protocol. Substituting fattening dressings that you would normally eat on any kind of salad for simple lemon juice is one example of saving possibly hundreds of calories in one single dish. Sautéing, grilling or baking your food rather than frying in oil will be how you save calories as well. You can always add in oregano, pepper, chili powder and some other spices to dazzle up your meals and have them taste delicious, almost making you forget that you are dieting. Please look around our website for some amazing HCG diet example meal recipes that past clients have sent in to us because they were perfectly proportioned and fit our protocol. People from Colorado Springs CO and San Francisco CA, where restaurants are around every corner and used to bring great temptations, will not even tempt you anymore because you will be fully satisfied with the meals that you prepare for yourself at home. You never have to worry about wondering whether food is appropriate or not. For our diet plan protocol, you will always be able to call our advisors over the telephone and ask if you have any doubts or questions. If you are wondering about a specific HCG diet food that is not on our list, you can feel free to call us during normal business hours to get your answers. Please reach out and contact us now for your initial consultation by calling our toll free phone number or by using our online Contact Form. You have a whole amazing, healthy and happy life ahead of you. Once you lose those unwanted pounds that are bringing you down and keeping you from doing family activities, traveling, special hobbies and all the different things in life that you want to do, you will not only look like a new person, but you will feel like a new person as well. We are right here to help you throughout your entire weight loss journey with our clinics, but you have to take the first step by reaching out to us.
Recently asked questions regarding an example of an HCG diet:
Robert L. from Miami Beach FL wrote to us and inquired about our program: My company puts on a big family picnic at the end of every summer. It is one of the events that everyone in the company looks forward to every year. There is great food, a chance to meet the members of other people's families and there are fun organized games as well for everyone including the adults and the children. This year, they had a father and son relay race (a mother and daughter one took place too). The sons started the race and the father's would finish it. My son got off to a great start and by the time he tagged me he had built up a heck of a lead. Unfortunately, he has a "fat dad."  I disappointed him so badly! Please can you give me an example of an HCG diet so that I can start thinking about the best way I can lose these horrible extra and unhealthy pounds that keep me slow and missing out on so much of life? My son witnessed 2 horrible things that day. The first, was hearing people laugh at his father as my belly was bouncing around as I ran. Then, I got so winded so fast, that I had to kneel down to rest and lost the lead he worked so hard to build. I was okay, but I saw this look on my son's face that I had never seen before. I do not know, but I think it was shame and humiliation over his relation to me. It was enough to finally get me to address the "big" problem in my life. The trouble is I do not know where to begin. Finding your website where you talk about HCG meal examples and what goes along with them is a great start and I am very happy to have found your clinics. I live in South Florida now, but will be moving to the northern part of the state for a new job. I would really like to be able to begin the program over there before the job starts. I will leave in less than a week, but the company is not starting me on for a couple of months. I think that will give me enough time to shed some of this excess embarrassing weight that holds me back in many different ways. I was hired for this job over the phone, so my physical appearance was never seen. I was very thankful I only had to have a phone interview, otherwise they may have never hired me if they saw how large I was. Thank you for your help.
We have many an example of an HCG diet for anyone interested in learning more about what kinds of foods you eat while working with us and what else you will be doing on our diet plan protocol, Robert. We would love to help you to lose as much as 30 pounds in 30 days or approximately 1 pound per day before you begin your new job – and congratulations on getting new work that we hope you will enjoy. Allow us to help you to enjoy how you look and feel firstly, and that will begin when you call us directly using our toll free phone number or by filling out our online Contact Form. You will reach our expert clinical advisors directly and they will provide guidance for you throughout your entire journey working with us. You will fill out our medical history form for clearance. Once cleared by our licensed doctors, we will start giving you all the information you will need about our HCG diet example menu, our high quality injections, our Vitamin B 12, our vitamin complex and all 4 phases of our weight loss plan program. We never want you to have to feel like an embarrassment to your son or to yourself mostly, and we can help you in a very short period of time in a clinically proven to be safe and effective way. You will have constant medical supervision from our licensed practitioners and our advisors will be in constant contact with you while you are melting away those unwanted and unhealthy pounds on a daily basis. We hope that you will keep reading through our website to learn as much as you can about our HCG example diet plans and then please reach out to us for any other questions that you did not get answered. We want to completely educate you so that you know that working with our clinics is the best decision you could ever make in your life. There is nothing more important than your health and happiness, and we are here to help you with both. Thank you for contacting us with your inquiry and for sharing your personal story.
Stan H. from Hialeah FL wrote to us and asked: I take the bus to work every day, but I do not want do it anymore and the reason is because of my heavy body. I need to learn as much as I can about your HCG diet example recipes that I can make for myself to help me to lose weight at home. I do not know if I can lower the amount that I eat because I have an extreme problem with will power and I am an emotional eater as well. Here is an example: The bus stop is only a block from my house and stops a block from my work place. Sure, it takes a little longer to get to work, but the money I save on gas and the wear and tear on my car more than compensates for the extra time. The real drawback to traveling by bus is the other people you encounter sometimes. I have seen and heard people point and snicker at me because of my size before, but I had always ignored it in the past. I am looking for a good HCG weight loss diet plan program example because one day I hit emotional rock bottom with what happened to me. The bus was almost full to capacity. The seat next to me was empty. Some teenagers got on the bus and most of them found seats. One of them could not and when one of his friends suggested that he sit next to me the kid responded, "I can't. That fat horse is taking up both seats!" He did not even whisper it either. He said it loud enough for the whole bus to hear, but that was not the most embarrassing part. What really affected me was that he was right. I looked down and noticed that my "fat behind" had indeed occupied some of the seat next to me and I then finally made the decision to look into your HCG weight loss diet that my friend from Austin TX told me to do years age. I guess I never really took notice as to how bad my health was or I was too lazy. Well, not anymore. I am tired of being humiliated. I took a taxi home that night. When I got home I started research on how I can start losing this weight! How did I allow that to happen? Well, I figured that asking those "why" questions would not help, but taking action would, so I am writing to you now for some answers. How can I get started learning about your HCG diet meal samples in detail and how your program might be able to work for me? Thank you so much for your time.
Thank you for taking the time to write to us, Stan. We appreciate your interest in our clinics and know that we can help you lose at least 30 pounds in 30 days if you are medically cleared to work with our program. We have expert clinical advisors standing by to help you if you reach out and dial our toll free phone number or fill out our online Contact Form. We will be very happy to speak to you about how you are feeling about your weight issues and what your goals are for losing excess fat. We will give you the opportunity to ask us all the questions that you have regarding our HCG diet meal samples and share some truly wonderful recipes and exactly what you will need to do in order to stay on our diet plan protocol. There is a lot more than just diet; however, of course that is one of the most important aspects of how you will lose excess fat and keep it off. You will also be taking our HCG injections, our vitamin B 12 at our vitamin complex for energy and brain fuel. We never again want you to have to deal with such a humiliating situation that makes you feel badly about yourself. We understand what the repercussions of being heavy are for a person of your size and how others will react in society. We will not only teach you how to shed at least 1 pound per day, but we will give you life long skills for terrific eating habits that you can take with you for the rest of your days. You can even teach your family and shop and cook some of our HCG diet sample meals together. It can be a great bonding experience. Please reach out to us as soon as possible because we may very possibly be exactly what you have been looking to find for a while now. You have finally found a clinic that has a great reputation and a proven successful track record of helping scores of people from all across the country to shed unwanted pounds and to feel like new people. Our high quality medications are clinically proven to be safe and effective and you will have medical supervision from our licensed doctors along with all the support and guidance that you will need from our clinical advisors. We cannot wait to help you.
We have given you a few suggestions for an HCG diet example day where you can see that you can choose your own foods from the list that we give to you, rather than having to eat meals from cardboard boxes that you may not even enjoy. Our entire diet plan protocol has been made extremely simple, convenient and easy for you to do right from the privacy of your own home. No trips to doctor's offices, local clinics or even pharmacies will be necessary because we will ship everything that you need directly to your house or office and be available for you over the telephone for all of your needs. You will be thrilled with the results that you receive when you work with us, but you first have to reach out and contact us so that you can get medically cleared and ready to begin working towards better and healthier days ahead.